Need Help?
Please feel free get in touch with us. We will always do our best to get back to you as soon as possible and always within 1-2 business days.
The Need for Effective Regulatory Management
Regulatory management is a core requirement for all solicitors' practices and having an effective and comprehensive approach is essential if firms are to address the compliance duties placed upon them and be able to satisfy the various regulatory obligations to which they are subject.
The Infolegal InfoHub provides a number of key compliance resources designed to help firms identify and understand what is required of them and to keep records of that compliance and of the documents and processes that go with it.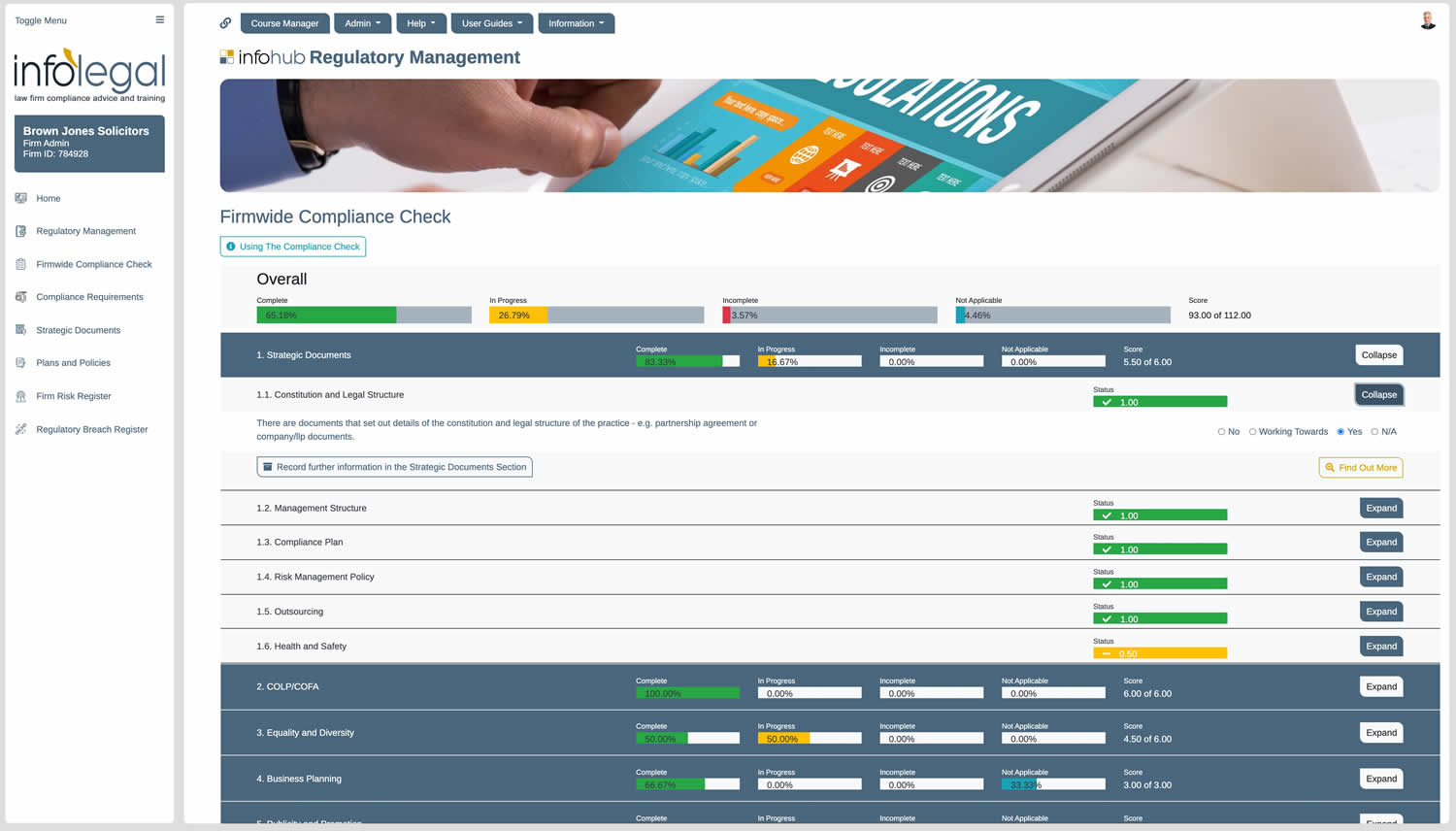 At the heart of this is the Firmwide Compliance Check – a comprehensive checklist allowing firms to monitor the extent to which they comply with essential regulatory requirements – using a "traffic light" system to highlight areas in which the firm is compliant and where further attention is needed.
Supporting this is a "compliance requirements" section which takes each of the compliance headings in the compliance check and explains what is required of the firm and where additional resources can be found.
In order to enable the firm to find those documents, policies and plans that relate to the various regulatory requirements with ease, there is a comprehensive register that allows the firm to store and make available as necessary its various documents, policies and processes. There is also the facility to record whatever additional information the firm feels to be appropriate for each of these. It is also entirely up to the firm how many additional sections it adds to this, thereby ensuring that all of the regulatory aspects of the firm can be addressed.
To assist the firm in identifying and addressing the risks that it faces there is a risk register which allows risks to be categorised, their likelihood/impact profile assessed and a method by which they are to be minimised recorded.
To help manage regulatory breaches, there is a register into which can be recorded potential regulatory breaches so that these can be brought to the attention of the COLP/ COFA and appropriate remedial/notification steps taken.
Finally, there is a whole section devoted to data protection related issues. Here the firm can record subject access and other requests and how they have been dealt with, keep a record of all consents given, undertake legitimate interest assessments and maintain a data breach register.
Managing Regulatory Information
In addition to allowing firms to check their level of compliance, this section of the Infolegal InfoHub also allows them to record how their firm is dealing with various compliance-related areas including:
Strategic Documents
In order to function effectively, firms need to have in place various strategic and structural documents setting out, inter alia, how the firm operates, how it is managed, its strategic objectives and how it will continue to operate and to move forward.

Not only is it a requirement of the SRA Code of Conduct for Firms (paragraph 2.1) that solicitors have "effective governance structures, arrangements, systems and controls", but also standards such as Lexcel and the Conveyancing Quality Scheme (CQS) require that those who hold those standards have in place various strategic documents.

This section allows the firm to maintain a record of those documents.
Plans and Policies
It is a requirement of the Lexcel Standard (3.7a) that firms have a register of each plan, policy and procedure that is contained in the Lexcel Standard together with details of the person responsible for it and a procedure for its review.

In this section firms can set out details of their policies, plans and procedures as required by the SRA, Lexcel, CQS, etc. together with either details of how they can be accessed or a copy of the plan or policy which can be downloaded.
Risk Register
Managing risk is a key element of legal practice management. Unless the firm is aware of the risks it faces it cannot plan to address those risks effectively.

This risk register allows firms to record the general risks faced (as opposed to AML-related risks which are dealt with elsewhere) and associated details such as responsibility, importance, likelihood, potential impact upon the practice and how that risk can best be managed.
Regulatory Breach Register
Paragraph 7.6 of the SRA Code of Conduct for Solicitors RELs and RFLs (and paragraph 3.9 of the Code of Conduct for Firms) requires that all regulated persons report promptly to the SRA or other approved regulator, as appropriate, any facts or matters that could amount to a serious breach of their regulatory arrangements.

This section allows everyone within the practice to record any such facts or matters and allows the COLP, COFA and other managers in the firm to be aware of those issues and respond accordingly.