Compliance Audits and Advice
Compliance Audits
Download our guidance on Compliance Audits
Compliance Audits
Download our guidance on Compliance Audits
Download
Ensuring that your firm is compliant in relation to its regulatory and risk management requirements is vital. However, the frequently changing nature of those requirements means that ensuring that your policies, processes and procedures are up-to-date and watertight is not always easy.
The Solicitors Regulation Authority (SRA) requires that you put in place effective processes and procedures and be in a position to demonstrate how you are addressing regulatory requirements. Paragraph 2.1 of the SRA Code of Conduct for Firms ("the Code for Firms"), for example, requires that firms "have effective governance structures, arrangements, systems and controls in place" to ensure they "comply with all the SRA's regulatory arrangements, as well as with other regulatory and legislative requirements" which apply to them and  that the firm's managers and employees "comply with the SRA's regulatory arrangements which apply to them".
Moreover, paragraph 2.2 of the Code for Firms requires that firms "keep and maintain records to demonstrate compliance with [their] obligations under the SRA's regulatory arrangements" meaning that there should be a clear system in place and an audit trail that the SRA can follow should the need arise.
For this reason, firms should have in place a system that allows them to monitor, analyse and assess the risks that they face on continuing basis and this needs to form a key part of their management systems.
Self-help via the InfoHub v Compliance Consultancy
Many of the requirements here can be satisfied by those firms being subscribers to the Infolegal InfoHub and making use of the resources and materials that the InfoHub provides to them.  These include a draft procedures manual containing all of the necessary processes and policies, guides, precedents, training modules and the cloud-based firm management function (see Managing Legal Compliance).
In particular, the InfoHub features a unique and comprehensive Regulatory Management section which includes within a cloud based compliance checking programme that will allow your firm to go through a 112 point compliance checking process to ascertain where you are compliant and where gaps still exist.  This will then, using a "traffic light" system show you how to close compliant you are and where attention needs to be concentrated.  Full explanations of what is required for each of the 112 points is provided as part of the system and precedents, policies and procedures to address all of the will be found within the InfoHub. (See Regulatory Management).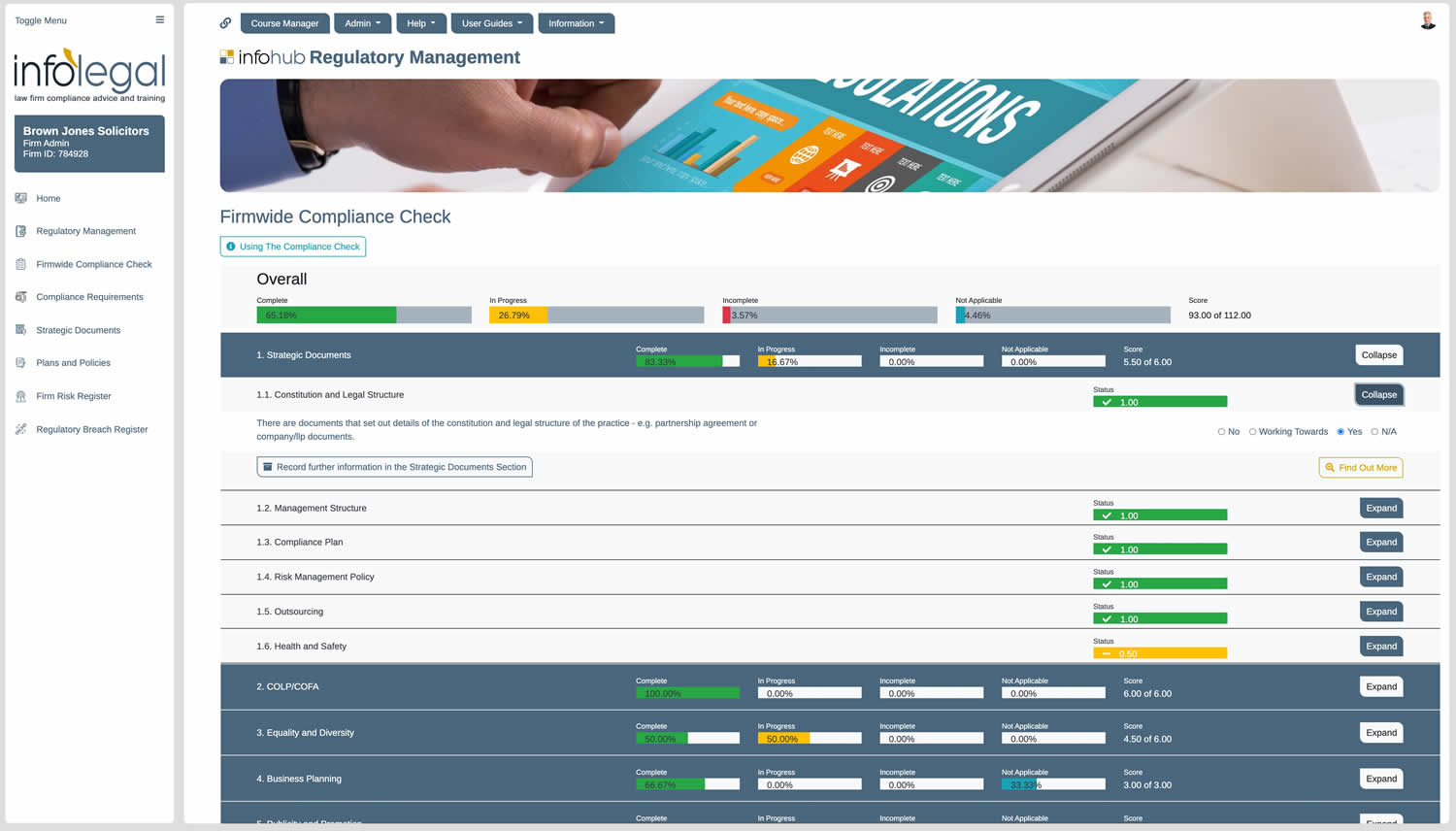 However, when this is not sufficient, or the firm wants the matter to be dealt with externally, then Infolegal's team of specialist advisers can assist with this by undertaking a compliance audit designed to highlight any gaps or shortfalls in the firm's regulatory processes and then providing the firm with practical and effective solutions to deal with those shortfalls.  To achieve this Infolegal will identify precisely where the firm needs to make improvements to its processes, policies and procedures and then create and put in place those systems and procedures needed to ensure that the firm's existing structures are augmented and brought up to the level of the current SRA Standards and Regulations.
Having done so, we will then either show the firm how they can use the InfoHub to maintain their own processes or schedule follow up reviews to ensure that processes continue to be current and effective.
Whether it be compliance with the SRA Standards and Regulations, the Money Laundering  Regulations, equality and diversity legislation or the provisions of the data protection legislation, Infolegal can assist your firm.  Our services can be provided on a one-off basis to look at the extent of compliance within your firm at a fixed moment, or can be on an ongoing retainer-basis so as to ensure that your firm continues to be compliant at all times.
Whatever the type or size of firm, Infolegal can assist you in identifying your compliance requirements. Our directors and consultants can undertake a comprehensive review of the compliance risks that your firm faces, and report to the firm on the steps that it believes need to be taken in order to achieve full compliance. This may involve putting right defects in existing systems or alternatively putting in place brand new systems, policies and procedures designed to address the specific needs of your firm.
Among the areas that Infolegal cover are:
strategic issues such as constitution, legal structure, compliance plan, outsourcing and health and safety,
the duties, authority and training of the COLP and COFA,
equality and diversity,
business and strategic planning and management including, where relevant, social responsibility planning,
publicity and promotion, including issues relating to transparency,
financial management, including financial control, handling outstanding balances and gifts,
information and cybersecurity, including policies for matters such as email use, passwords, social media and website privacy,
people management including recruitment, development, whistle blowing and exit procedures,
supervision and risk management, including key dates, conflict checks, file reviews and annual risk reviews,
clients and client care, including complaint handling and client satisfaction surveys,
case and file management including undertakings, file progression and the use of external experts
data protection and privacy,
anti-money laundering and financial crime including fraud prevention, anti-bribery, anti-tax evasion and sanctions reporting to OFSI,
Lexcel, CQS and SQM related issues,
financial services and investment business,
regulatory reporting,
ongoing compliance monitoring and review, and
training.
To find out more about how Infolegal can assist you and your firm with compliance related issues, please contact us on enquiries@infolegal.co.uk, phone us on 0203 371 1064 or complete the online enquiry form.