Need Help?
Please feel free get in touch with us. We will always do our best to get back to you as soon as possible and always within 1-2 business days.
This is custom heading element
Office Procedures Manual
At the heart of the Infolegal Compliance Hub is the Solicitors Office Procedures Manual.
Available in three formats to meet the needs of firms, sole practitioners and sole principals, the Office Procedures Manual is available to all Infolegal subscribers to download, adopt and amend as the firm requires.
The Manual has been designed to enable you to deal with the majority of your compliance needs from one easy-to-use source.
Whatever your type or size of practice, the 'mix and match' approach adopted by the manual will enable you to address any or all of the main regulatory issues within your practice.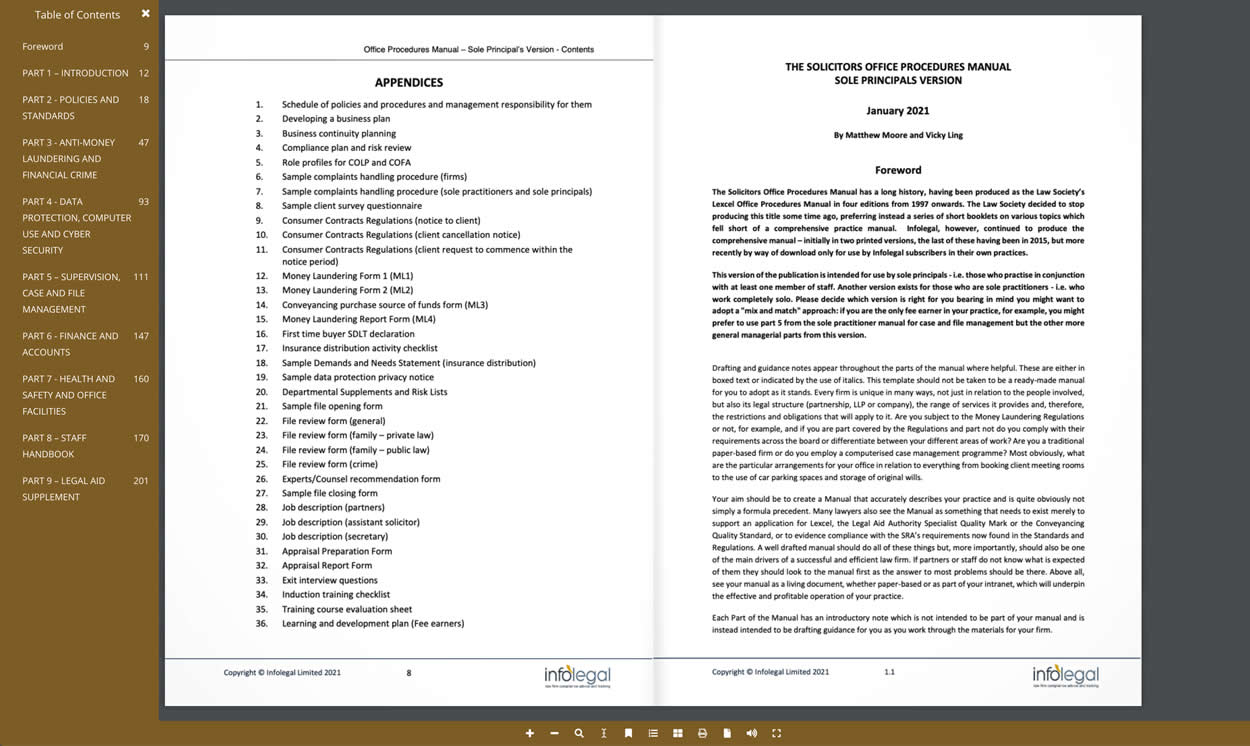 The SRA Standards and Regulations,
The Law Society's Lexcel quality standard v 6.1,
The procedural elements of the Law Society's Conveyancing Quality Scheme,
The Specialist Quality Mark (2012 edition), and
The Legal Aid Agency's contract – for Crime, Family and Civil.
Since it was first published in 2012, the Solicitors Office Procedures Manual has helped many hundreds of law firms to develop or update their practice manuals and compliance documentation. The Manual has also been widely used for the policies and processes required in applications to the SRA for authorisation as new practices.
More than just a one-off purchase, the Manual is now a complete updating package and it is kept up to date so that firms can amend their own manuals to keep up-to-date with changes in both the law and regulation.
Subscribe to Infolegal to download the template policies, procedures, forms and precedents, also the various checklists showing how you meet all the obligations you are subject to and regular updates to alert you to the need to update your manual as soon as changes are announced.
Three Versions Available
The Solicitors Office Procedures Manual is available in three separate versions.  They are:
sole practitioner (i.e. those who practise completely on their own without colleagues or associates),
sole principals (i.e. have at least one colleague/employee), and
firm (i.e.those where there are at least two partners or directors).
and is available to download as a Word or PDF file.
What the Office Procedures Manual Covers
The Manual can be used as a conventional hard copy document, made available to the firm through a shared drive, or uploaded onto your firm's intranet.
Key topics within the manual include:
Risk management,
Client care and complaints management,
Equality and diversity,
Conflicts of interests,
Compliance with the SRA Accounts Rules,
Data and information management, and
Money laundering, mortgage fraud and other aspects of financial crime compliance.