Need Help?
Please feel free get in touch with us. We will always do our best to get back to you as soon as possible and always within 1-2 business days.
As part of your subscription to the Infolegal Compliance Hub you will have access to our growing range of documents and precedents covering topics such as retainer letters, cybersecurity, data protection, money laundering and more.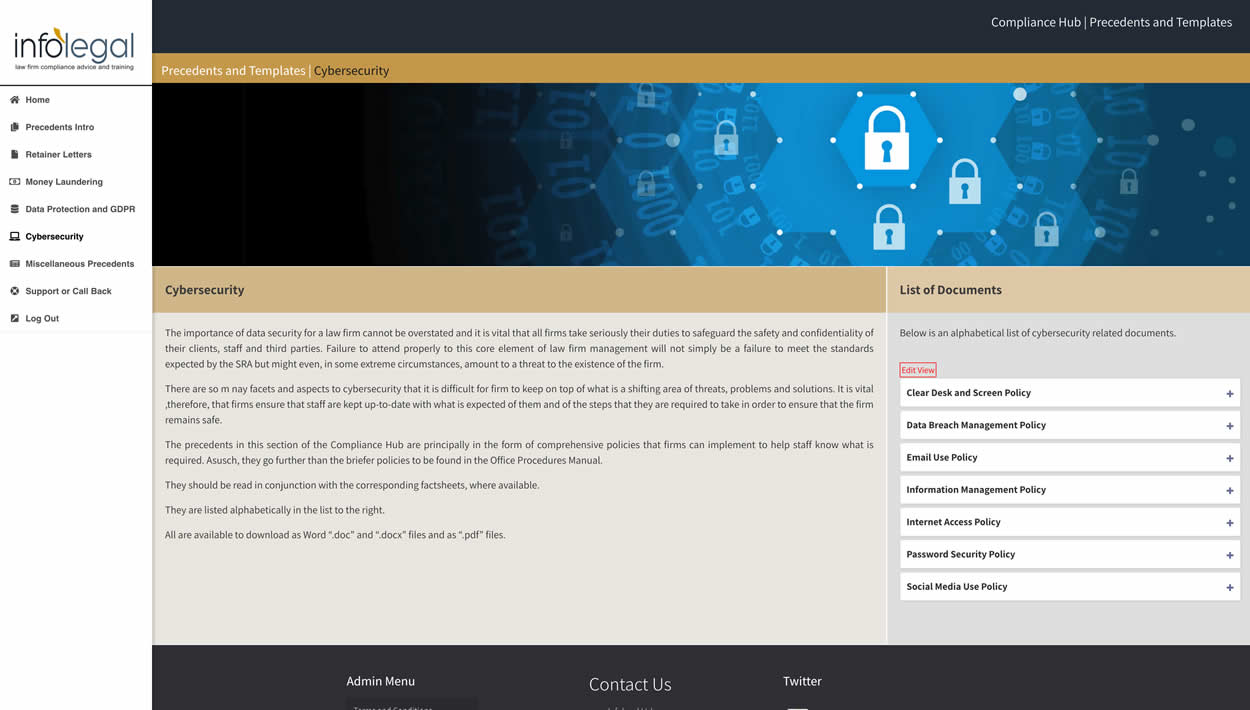 Whilst some of the documents such as the retainer letters and cybersecurity precedents are entirely standalone, others such as the data protection template letters, documents and policies are designed to be used in conjunction with the guidance notes whilst others can be used in conjunction with the Office Procedures Manual. It is entirely up to you how and when you use them.
As with all of the other parts of the Hub, we keep the documents up to date and you can use the revised versions to update your own documents.
Supplied in Word format, the documents and precedents can be adapted easily to suit the precise requirements of your own firm.
The documents and precedents we offer include:
Retainer Letters
A series of 20 model retainer letters for firms to adapt and adopt.
These include letters dealing with contentious, non-contentious and legally aided work and cover areas such as company, commercial, employment, property, wills, probate, trusts, crime, family, debt recovery and litigation, police station work and mental health.
In addition, we provide a retainer letter checklist and terms of business checklist for those who are drafting their own.
Money Laundering
Remaining compliant with money laundering regulations continues to be a major concern for all law firms of all sizes. To assist we have produced a number of forms and documents which include:
AML Risk Assessment Form
AML and Countering Terrorist Financing Policy,
Client Identity Form (ML1),
Passport and Photo Driving Licence Form (ML2),
Source of Funds Form (ML3),
Report Form (ML4), and
Draft text on use of client identity evidence for CDD purposes.
Cybersecurity
Cybersecurity is becoming one of the most important, and time consuming, areas of risk for firms. We have produced a number of cybersecurity related documents (together with several cybersecurity-related checklists and processes – see Checklists and Procedures section) which you can use within your practice including:
Email policies and guidance,
Safe browsing policies,
Information management policies,
Social media use policies, and
Confidentiality/clear desk policies.
GDPR Precedents
The data protection documents and precedents we offer cover a wide range of topics including subject access requests, data collection and analysis, data breach management, legitimate interest assessments and readiness checklists and include:
Template letters for dealing with subject access requests,
Policy documents covering data breaches and subject access requests,
Legitimate Interest Assessment forms,
Agreements with data processors, and
Privacy notices.
Other Documents
In addition to documents in the specific areas set out above, we have also produced, and will continue to update and augment, a number of other documents which we believe firms may find useful in their practices. These include:
Home Working Policy,
Home Working Risk Assessment,
Residual Client Balance draft letter and forms,
Specimen referral agreement.